Colin Bailey
It is so hard to do, but I must tell you of Colin Bailey's passing, on September 20, 1921. Colin was 87 and died peacefully at home. He will be missed by all of us who loved him and his music and his humor.
I am Michele Munro Bailey, his widow, and I will update his page periodically. Check back for new photo additions and information as I find it and share it with you. I am so proud of his 70+ year career.
Drummer Colin Bailey has had an remarkable career. He has played with many of the worlds greatest musicians in all areas of the business. He's done over 100 jazz albums, T.V. shows, and toured world-wide with the likes of Benny Goodman and Joe Pass. Colin is still playing Jazz gigs and doing Master Classes in the US, Brazil and Canada.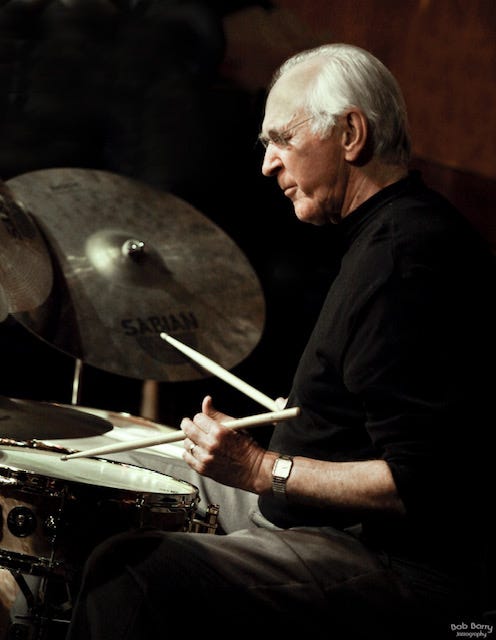 He has written three drum books; Bass Drum Control (published in 1964) has been such a successful book that it was reissued with a new cover to celebrate its 50th anniversary, Drum Solos – the Art of Phrasing (1998), and his latest one, Bass Drum Control Solos (2002).
His DVD, Bass Drum Technique, was voted Number 2 in the Modern Drummer readers poll in the Educational DVD category. It is also available as a Master Class or single lessons on the Drum Channel.
Three videos (links below) from the DVD, Bass Drum Technique, offer drummers the opportunity to watch Colin demonstrate his bass drum technique as he takes you through the exercises already made famous by his book, Bass Drum Control.
About Setting Up the Pedal…
Exercises 1 – 4
Exercises 9 – 11
Two additional videos feature The Colin Trio, with John Chiodini on guitar and Jim Hughart on bass. More videos are available from Colin's video page.